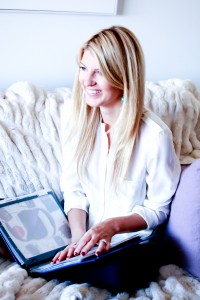 As a former celebrity stylist at Polo Ralph Lauren in New York City, Kimberly Garrett Rosen supported the fashion PR/celebrity dressing team in working with a range of VIP clients and styling for events from Bridgehampton Polo to the MET Gala.  She has worked with women and men of all shapes and sizes- including Julianne Moore, Debra Messing, Camilla Belle, Kerry Washington, Blake Lively, Lauren Bacall, Nate Berkus, Chace Crawford, Penn Badgley and LeBron James.  She collaborated with the stylists of celebrities including Angelina Jolie, Penelope Cruz, Johnny Depp, and Chris Pine to secure them in Ralph Lauren.  She also assisted with styling specific characters for films including "Sex and the City 2" and TV shows including "Gossip Girl".
Ultimately she decided to venture on her own and work with women who seek clarity and organization in their wardrobes. She found many people feel they don't have the time to shop for themselves or feel frustrated putting their wardrobe together.  Plush Fashion Styling offers a variety of services to ensure that your closet and clothes are the best reflection of you- both personally and professionally.
In addition to working with Plush, Kimberly has taken on roles including Public Relations Manager at Giorgio Armani, costume-designer for the pilot episode of a TV show, contributor to Hamptons.com and host of various events in The Hamptons.